Meet the makers.
Ben and Lois Orford, live and work from their home in Herefordshire, surrounded by the rolling countryside and the flourishing trees that they planted on their land twelve years ago, which makes a very inspiring place to live and work.
The trees are used for various craft uses as well as making a great wildlife habitat around their workshop and home. They built their own home and workshop from the remains of some 1960's wooden classrooms that were going to be demolished at a local school, one of which was an old science classroom complete with Bunsen Burners, test tubes and science benches, the old chewing gum stuck under the tables and the teenage graffiti came for free and after some work and dedication The "Craft Lab" was born. 
When not in the workshop there is nothing that Ben and Lois like doing more than being in the outdoors enjoying nature, walking and camping, either on the local Malvern Hills or further afield on the South West Coast Path or the Lake District fells. They also love the water and regularly tie the canoe on the roof of their campervan and head off to one of the beautiful lakes or rivers that the UK has to offer, and needless to say, they love a cold water swim too. - who doesn't ?
Their main ethos is to encapsulate this love for the outdoors in the products they make, ensuring they use the best materials they can source to capture their passion for the outdoors with high quality products that will not let you down when you need them the most in the wilds.
"Crafted with passion for your next adventure"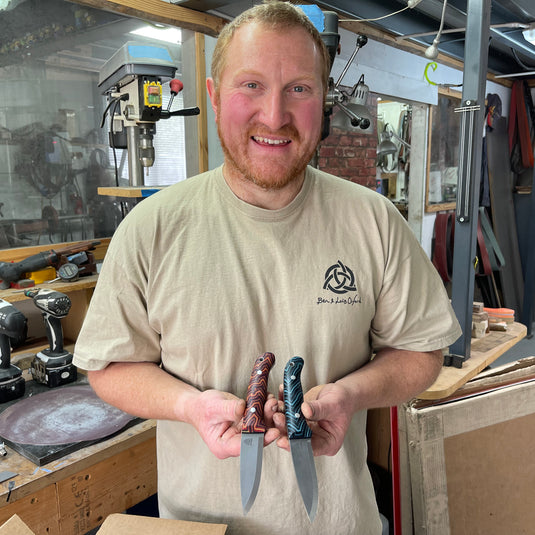 Ben Orford.
The Bushcraft Knives and tools that you see here are made by myself here in the workshop. The designs come from my many years of working with wood and metal. I came into the tool making side of things through the traditional craft of green wood working, pole-lathe turning and woodland crafts, which I studied on a traditional Green Woodworking apprenticeship for three years in my home county of Herefordshire. Since leaving that at the age of 20, I have been self employed and used these skills as well as others to become a tool maker that understands the importance of making a tool or knife that will not only look the part but will be 100% right for the tasks it's designed to tackle, using the best materials and methods to create an heirloom tool that is a joy to use.
Lois Orford.
I make all the leatherwork here and love my creative space overlooking the beautiful Malvern Hills. I was brought up in a very urban environment but always hankered after the great outdoors and loved making things with my hands - my solution was to get involved in horticulture and create beautiful green pockets of life in my local environment.  Speed forward twenty years and I found myself on a green wood working course in the stunning county of Herefordshire, up until then completely unknown to me. I became addicted to the woodwork and the tools involved and started to make my own leather cases to keep my tools protected. As time progressed I found the leather work had drawn me in and I was truly hooked on its versatility, toughness and durability for outdoor use. Teaming up my skills with Bens was a perfect match and we've never looked back.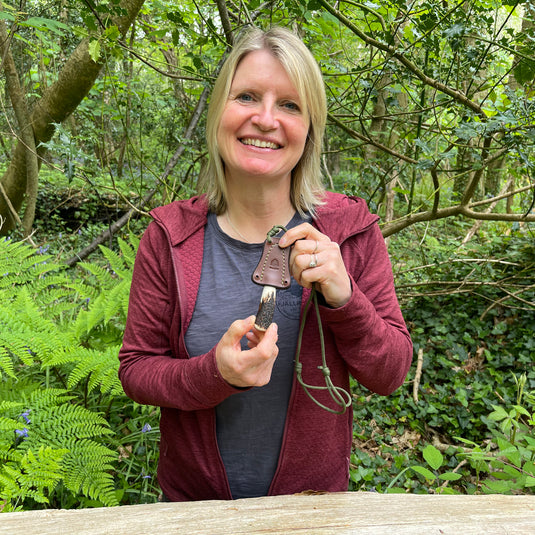 Meet the makers.
Our workshop: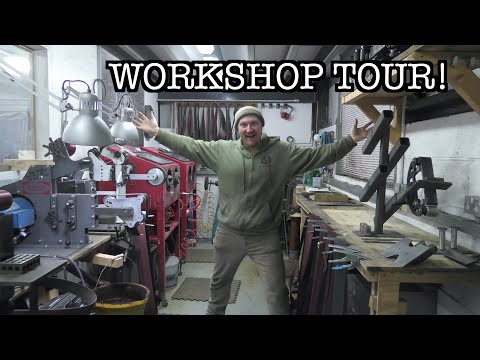 FOLLOW OUR JOURNEY
Instagram: